Deze TikTokker draagt vooral natural make-up looks! Esmee draagt weinig tot geen make-up dat haar prachtig staat. Zo accentueert zij haar natuurlijke schoonheid met make-up. Wil jij weten hoe je deze look aanbrengt? Lees dan snel verder!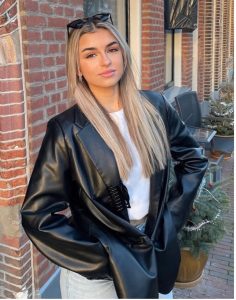 Deze mooie natural make-up laat Esmee helemaal shinen! Hier zijn een paar stappen om deze look ook na te maken.
Primer
Als eerste stap breng je primer aan. Primer is zorgt ervoor je make-up langer blijft zitten en dat je gezicht beschermd wordt door bepaalde stofjes die in je make-up zitten.
Concealer
Breng vervolgens concealer aan op je onzuiverheden zoals puistjes en mee-eters. Ook breng je de concealer aan onder je ogen op je wallen. Dit zorgt ervoor dat je een frissere look krijgt.
Wenkbrauwgel
Als je je wenkbrauwen naturel wilt houden, maar wel de hele dag op zijn plek wilt houden, werkt wenkbrauwen gel het beste! Borstel je wenkbrauwenhaartjes met de spooly die je in de gel dipt. Zo breng je je wenkbrauwen in model.
Contour
Om je natuurlijk botstructuur te accenturen gebruik je contour. Contour is een iets donkere kleur dan je huid. Dat breng je aan op je jukbeenderen en lichtelijk bij je haar lijn. Ook kan je je neus contouren als je wilt!
Blush
Blush zorgt voor een natuurlijke bloos. Zo breng je je eigen natuurlijke ondertonen naar boven! Breng de blush aan op je wangen boven de contour. Kies zelf hoeveel je nodig vindt te hebben!
Highlighter
Highlighter brengt je eigen shine helemaal naar voren! Gebruik een goudkleurige om een zomerse warmte te vormgeven. Breng het aan net boven of op de blush.
Lippen
Om je lippen mooi te laten glanzen kan je vaseline of lipgloss gebruiken. Zo zie je nog steeds je eigen lip kleur, maar glimt het wel!
Settingspray
Om deze look van Esmee de hele dag op je gezicht te late houden spuit je settingsprey nadat je alles op hebt gedaan. Zo blijft de look de hele dag lang perfect zitten! En nu ben je helemaal ready to go!